Contact the Kapiti Riding Club Secretary via email at:  kapitiridingclub@outlook.com
Good news – Waikanae Pony Club and KRC are going ahead with the winter show jumping series!!!!
The dates are as follows:
Sunday 21 June
Sunday 26 July
Sunday 16 August
We will be requiring helpers on the day.  This series is a major fund raiser for both the Waikane Pony Club and Kapiti Riding Club.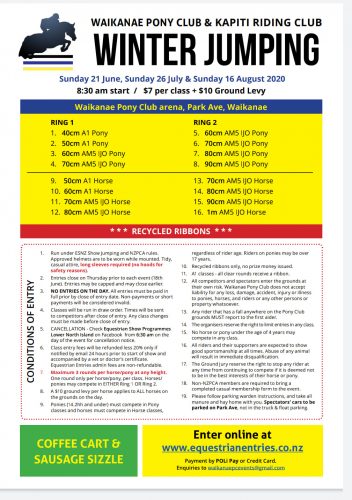 CLUB SHIRTS
We have received a new order of club Navy Blue club shirt.
These are $50 each
If anyone would like to purchase one please contact Nicola Robinson
email:  nickrobinson@xtra.co.nz
AGM  – 30 July 2019
Our AGM was held at the Waikanae Pony Club Rooms with a fairly good turnout!  Thank you to all office holders who have yet again volunteered their time.  It was a lovely evening with a few laughs and a good catch up afterwards with wine and nibbles.
Subs are now due. – click here for current membership form:  KRC MEMBERSHIP FORM 2019 to 2020
Office Holders 2019 to 2020
President:    Karen Trotter
Vice President: Sandra de Ruiter
Secretary:   Sandra Ray
Treasurer:  Val Ballinger
Coordinators
X-Country:   Mary Pagnamenta
Show Jumping:  Melda Gibson
Dressage:  Karen Trotter
Social Events:   Lesley McKenzie
Website:  Ange Galland
Uniforms:   Nicky Robinson
Facebook:   Nicky Robinson / Val Ballinger
Rallies:  Sandra Ray / Ange Galland
Obstacle days:  Emily Thomsen
Trophy Winners:
Most Improved:    Ruth Wallis on Corona
Scan Sweetman Trophy for overall attendance: Sandra Ray
Club Person:    Ange Galland
Silly Chook:   Christie Strang
Best All-Rounders:    Nicky Robinson on Forest, and Val Ballinger on Merlot
MAP OF LOCAL HORSE TRAILS:
For a PDF of KCDC's Stride 'n' Ride map for local horse trails click here:  stride-n-ride-trails-dec-2017
Please clean up after your horses!
A couple of our riding club members have noticed recently people not cleaning up after their horses in public places (not necessarily club members).  As a club we urge riders to pick up all of their horse poo at parking areas around their floats and trucks eg at beach entrances and trail riding parking areas.  As riders we shares these areas with many other users and wish to continue to do so, and leaving a mess behind that is easily cleaned up certainly doesn't help with our cause.